Podcast: Play in new window | Download (Duration: 2:22 — 1.1MB) | Embed
Subscribe: Apple Podcasts | Android | Email | Google Podcasts | RSS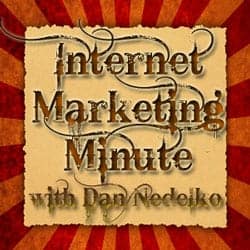 In today's marketing minute I'm going to talk about Twitter. Here are a few highlights:
Download my Twitter Strategies for Converting Customers Whitepaper from Honeypot Marketing. Tons of great tips in there (and I wrote that myself, no copy paste).
Go to Sponsored Tweets and Sign Up – monetizing your Twitter is s-m-a-r-t.
Go to http://ad.ly and sign up – same concept but slightly different. You get sponsored by the week, not the tweet.
Check out these videos by Scott Monty in charge of Social Media for Ford (interview in 3 parts: http://bit.ly/3v0NrR – http://bit.ly/3Wumqf and http://bit.ly/2VXCUo
Listen to the podcast. I talk about Twitter and how not become a spammer (or have other people on Twitter hating everything about you).
*Whew* Busy Tuesday. Is it Friday yet?